CCPIT Global International 
Travel Agency (Beijing) Co., Ltd.
Company Profile

CCPIT Global International Travel Agency (Beijing) Co., Ltd. is a wholly-owned subsidiary company of China International Exhibition Center Group Co., Ltd. and is a business travel service provider of the first Chain Expo.


CCPIT Global International Travel Agency (Beijing) Co., Ltd. is committed to providing customers with high-quality domestic and outbound tourism products, domestic and international booking services for hotels and vehicles, domestic and international air ticket services, high-end business overseas visiting delegation, supporting services of domestic and international conferences/forums.
CCPIT Global International Travel Agency (Beijing) Co., Ltd. can book hotels and vehicles for tourists visiting China and Beijing, offer multiple Beijing and domestic tourism routes, and also provide various business docking activities for customers who visit China for business purposes.
Address: 
Floor 2, Hall 1, China International Exhibition Center, Yard 6, North 3rd Ring East Road, Chaoyang District, Beijing

Business contact number: 
010-84600765

Contact person:
Mr. Li Chen  010-84600733
lichen1@ciec.com.cn


Welcome to participate in the 2023 China International Supply Chain Promotion Expo(CISCE).As a professional team responsible for business travel service during the exhibition period from 28 / Nov.-2 / Dec. To ensure the good accommodation for the exhibitors and visitors we have reserved rooms in the nearest hotels around the CIEC(Shunyi Venue).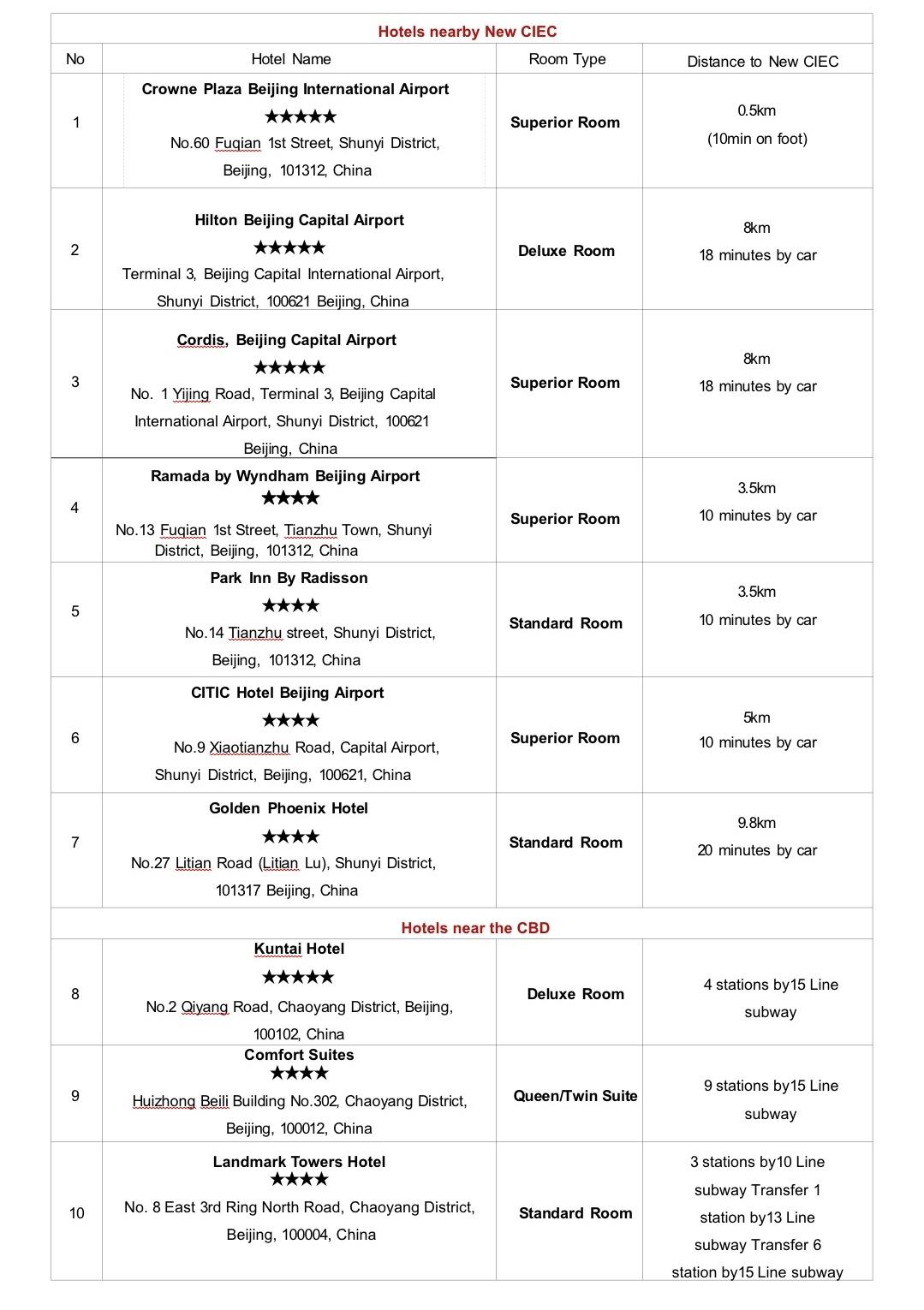 Notes:
· The above is the CISCE recommended hotel, please choose the hotel according to your own needs, limited availability, please book as soon as possible.
· Please fill in the reception service reservation form, wechat or email to our company. After  receiving the form, we will send a confirmation form.
· After receiving your booking information, our staff will send a confirmation form within 24 hours, you receive the confirmation will be regarded as a successful booking.
· The payment, change,and cancellation terms for the above recommended hotels shall be  subject to the confirmed terms on the form.
· The above recommended hotels agreement price are valid until 10th  Nov. Please consult the reception team staff for detail.
· If the above recommended hotels are fully booked,we will recommend other hotels for you.
· If you want to book another hotel, we will also serve you wholeheartedly.
· CISCE Organizing Committee reserves the right of final interpretation of hotel reception services.

Scan QR to booking hotel
Hotel Reservation Form.docx
CISCE Service Reception Group
Mobile: +86 186122913

77 (WeChat account)
E-mail: zhangxinyue@sdlm.cn