The introduction of China International Exhibition Center (Shunyi Venue) 
As one of the two major exhibition venues owned by China International Exhibition Center Group Co., Ltd.(CIEC Group),an enterprise under direct administration of China Council for the Promotion of International Trade (CCPIT), China International Exhibition Center (ShunyiVenue) isa landmark building located in Beijing Capital International Airport Economic Zone. The fusion of digitization, intelligence and green gardens contributes to amodern venue with subtle blend of landscape and technology. 
China International Supply chain Expo (CISCE) is to be held at CIEC(Shunyi Venue) with smart and comfortable amenities for exhibitors and visitors. Wish you a fruitful journey at the splendid event!
CIEC (Shunyi Venue) was put into operation in March 2008. It is one of the top modern professional exhibition venues in Beijing. With a gross floor area of 230,000 square meters, including 107,000 square meters of indoor exhibition area and 50,000 square meters of outdoor exhibition area.
CIEC (Shunyi Venue) has 8 combinable single-story, column-free, large-space exhibition halls, each of which can hold small exhibitions independently and can be connected to each other through internal corridors to facilitate the holding of large-scaled exhibitions. It has become an important platform and great choice for international brand exhibitions.
Adhering to the concept of "Customer Focus, Service First", the experienced team spares no efforts to provide clients with the best exhibition services.
To the east of Beijing Capital International Airport, CIEC (Shunyi Venue) is located in Beijing Tianzhu Airport industrial Zone with well-connected transport facilities.
6.4 kilometers away from the Capital Airport;
80 kilometers away from Beijing Daxing International Airport;
200 meters straight-line distance from Guozhan Station at Subway Line 15;
500 meters straight-line distance from the nearby bus stations ShunyiXinguozhan Station or Maliandian Station over 15 bus routes passing by.
Venue site: No. 88 Yuxiang Road, Shunyi District, Beijing
Venue Data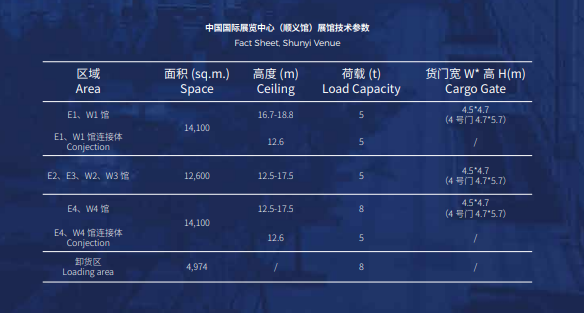 Meeting Room

Traffic Map